Roadside Art Online
The Western Avenue And Vicinity Gallery
The Suburbs
These shining examples come from suburbs on all sides of Chicago
Click a picture to see a larger view.

---
Hair aglow on Milwaukee Avenue, Niles; Rand Road, Des Plaines; the mansard roof over the hand-rendered hard hat is sublime in Arlington Heights; Changes, clothes for losers, apparently, on Cicero.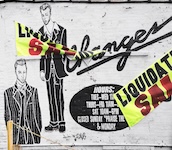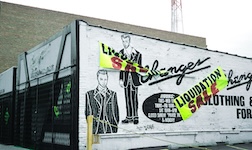 The barren wall supplies some real desert feeling to Mr. Taco on Ogden Avenue (Rt. 66) in Cicero. The fussy roof treatment qualifies Father and Son, also on Ogden in Cicero, for special attention. It was as Kafka & Sons, however, that the fabuous miniroof was built to house the K.







Covert Motel is a longtime favorite on Governor's Highway in Matteson; it once made True Facts in the National Lampoon. I didn't get it until then. Express-Way Car Wash is another one that wins for its roof treatment, on 162nd Street in South Holland. Nearby is the former Charm Cleaners. The modernist design represents the optimistic glory days of the South Suburbs, long past.Chicago boasts a couple of smiley face water towers, one in Worth, "The Friendly Village," and the other in Calumet City. This one, photographed in the 1980s, was one company's roadside tribute to the Cal City edition. La Dre's Hair & Nail is heroic on Sauk Trail in Sauk Village.









Gena Bros. is on Chicago Road in Chicago Heights. Hi-Way Bakery is on Dixie Highway. La Vaquita was on Chicago Road.









Ye Olde Wash House is on Halsted in Harvey.The feminique imagery is among Chicago's greatest. Dee's Blessed to Dressed is on Halsted in Chicago Heights.







Back to the Western Avenue Gallery
Gyros | Environments | Signs | Junk | Ruins | Vistas |
Grog N Groc | Western Avenue Gallery | Matchbooks | Motels
The Latest Stuff | Roadside art | Outsider pages | The idea barn | About | Home
Copyright Interesting Ideas 2006