Roadside Art Online: Environments

Wisconsin doesn't have a lock on spectacular roadside visionary creations. Places like Watts Towers in L.A. or the Garden of Eden in Kansas see to that. But per square mile, the quality and number of its art environments are unmatched. The grottos, sculpture gardens and personal statements run the length of the state and the gamut, from the grand religious messages of Holy Ghost Park in southwestern Dickeyville to Fred Smith's patriotic masterwork in north-central Phillips.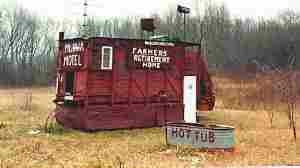 Not all the state's environment's are monumental: A bit of land and some old farm junk are forged into a message on Wisconsin Highway 54 west of New London.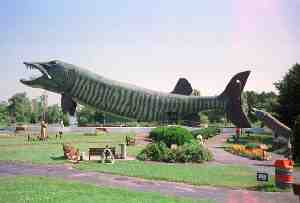 The Fresh Water Fishing Hall of Fame in Hayward is in a different class from these environments; it's a tourist rather than an outsider classic. But it's both weird and Wisconsin enough to deserve inclusion on this page. Not only can you walk into the mouth of the big fish, but the museum part of the place is every bit as weird and interesting as the architecture.
Gyros | Environments | Signs | Junk | Ruins | Vistas |
Grog N Groc | Western Avenue Gallery | Matchbooks | Motels
The Latest Stuff | Roadside art | Outsider pages | The idea barn | About | Home
Copyright Interesting Ideas 1997, 2007