The unyielding popularity of Jim Sudduth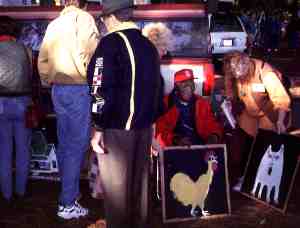 Jimmy Lee Sudduth (seated above, at the 1996 Kentuck art festival) is among the most talented of the southern self-taught artists who came to prominence in the 1980s, and one of the most prolific. His favored art supply is Alabama mud, though under the encouragement of his collectors and customers he uses house paint as well.
Sudduth, an artist capable of great creativity and visual sophistication, was mobbed by collectors and well-wishers at Kentuck until not a piece of work was left, and he had brought a lot. Though nearly all the pieces at Kentuck were stock repetitions of popular Sudduth themes, by lunch he was sold out and gone.
On the same day, across the river at the Robert Cargo Gallery in downtown Tuscaloosa, Ala., collectors could see older examples of Sudduth's work: They were considerably more expensive, but they also showed exactly why Sudduth deserves his high status. The pieces, including a group of city skylines executed in the 1980s, showed a wonderful eye for detail, skilled technique and subtle coloring.
While Sudduth has been going to the Kentuck fair for years, he sells most of his work off his front doorstep to a steady march of visitors attracted not only by the art (available at a fraction of what dealers charge), but also by Sudduth's reputation as a convivial host who works as hard to entertain guests as he does to make paintings.
Sudduth almost perfectly fits the paradigm of contemporary American outsider artist. He is self-taught, rural, southern, black, elderly. He paints with mud. Besides making art, he plays a decent blues, which adds to the pleasure of a personal visit. And the flow of visitors, in addition to providing a steady income, has helped put him firmly in the informal sector of the folk-art market, where the premium tends to be on production, personality and pricing rather than the subtleties of artistic growth.
This sector is characterized by direct relationships between artists and the public, with dealers having little or no privileged access to the artists or their work. The pressure is to meet continuous demand rather than to produce bodies of work for gallery shows or other focused projects, and there is little incentive to limit production. Like many outsider artists, the grandfatherly Sudduth works hard to accommodate the unyielding demand from his visitors and countless other collectors.
Not that there is anything wrong with Sudduth making just as much art as he chooses or with folks wanting to buy that art. Nor is there anything wrong with artists and collectors being enriched by direct contact. Yet the marketplace for self-taught art creates a structure that encourages quantity over quality, and it's hard not to feel that there is potential in Sudduth's talent that will never be realized as his artistic energy is consumed by the demands of mass output.
As long as Sudduth lives there undoubtedly will be more pictures of dogs and chickens and colorful houses. The likelihood is slim, however, of his producing anything like the paintings that Robert Cargo had, or like the older work on display at the art museum in Fayette, Ala., Sudduth's hometown. While there is nothing wrong with the broad but expressive strokes that created the umpteenth iteration of his dog Toto -- the white figure (at right in the picture above) is a striking image and deservedly popular -- there also is nothing new in it.
(Jimmy Lee Sudduth died in 2007.)
---
The pictures below date to around 1990 -- well after production ramped up for the folk-art market. But they're not stock images either, and they give some indication of the kind of detail and nuance Sudduth can achieve. The picture on the left is 12x16, the one on the right 32x48. Below is a characteristic all-mud painting from the same period, 32x32 -- less detailed but also mysterious.