The Sock Monkey Online
Like everything else, sock monkeys are represented on a plethora of Web sites. The personal sites first, then the stores.
Sock Monkeys are the solution to the Y2K problem
Honorable mention to Shari Elf's Crochet Musem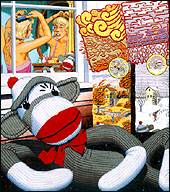 Sock monkey painting by Robert Williams,
shown at Tony Shafrazi Gallery
And on related notes: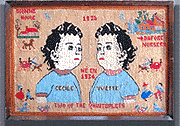 Experience the wonders of needlepoint..



Inspect original crochet work.

Back to The Sock Monkey Experience

---
The Latest Stuff | Roadside art | Outsider pages | The idea barn | About | Home

Copyright Interesting Ideas 1998