When he does get to painting, he tends to produce folky but delicate, fine-grained images, otherworldly, often religious and well into the interesting side of odd.

Hardee, 41, works at Food Machinery of Lakeland, which makes orange-juice machines, and has been painting since 1972.

"I wanted to buy some pictures at my friend's shop -- Betty Cheecks. I liked the old farm scenes, but they were too expensive. So I looked around and I thought, 'Gosh, I could paint these myself.' I sat down and started painting. I did some farm scenes.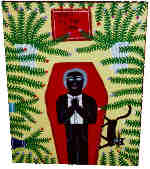 "One day Betty came over to buy some antiques at my grandmother's, and she saw my pictures and said, 'Who did these?' And I said I did. So she liked them and she wanted to buy 'em. I thought, 'Well, that's neat,' so I sold her a couple and I did some more and sold them to her and she put them in her gift shop. That's how I got started."

Hardee, who says he studied a little art in high school, but not painting, gave up the farm scenes long ago. Today his favorite subjects are cats and Adam and Eve, though scenes from nature and other religious figures pop up.

He is well aware of himself as a folk artist and proud of his inclusion in "20th Century American Folk, Self Taught, and Outsider Art" by Betty-Carol Sellen, which lists Ott and Beecher as well. An epiphany came, he says, around 1976, when he first saw Jean Lipman and Alice Winchester's book, "The Flowering of American Folk Art."

"When I saw that I realized that I was doing the same thing. And I didn't know before that. I just thought it was farm pictures. And then I found out about Grandma Moses, and I thought, 'Yeah, that's kind of like what I do.'"

He says he emulated Moses a bit at first, copying some trees and a building, but soon got away from her themes and style.

He developed an edginess in his work that spills into the literal, with figures and colors (mostly primary) sharply delineated, typically arranged in spaces that are strongly defined geometrically.

Hardee numbers his pictures and includes messages to his buyers that read like letters home. "It is now Feb. 11 and I have already painted 6 pictures. I am now helping a new folk artist [Ruby Williams] whose style is more primitive than mine and she is using the money I'm giving her to help get kids off the street in Paterson, New Jersey. So we are able to do a little bit here and there!" says picture no. 181, "The Guardian Angel," which he says in the note is like an earlier picture that "went to a big collection in Connecticut."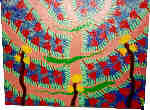 Hardee, though emphasizing that he only paints what he wants, clearly has a good sense of the folk art world, where he actively collects and promotes the work of others. He has a nice group of older Howard Finsters, and he credits Finster for giving his career a boost when the Georgia artist visited Lakeland in the mid-80s.

"He introduced the people to me because a lot of local people didn't know who I was. I was mostly selling to galleries, but not out in the open that much," Hardee says.

Now, spurred by his collecting interest and evangelistic inclinations, he tries to do the same for other local artists.

"I liked folk art myself and wanted to buy some for myself, but I don't travel a whole lot, so I thought, 'Well, there must be some other artists around.' Also I thought, since people have been very nice to me, I thought I could maybe help other artists somehow, even though I don't have a lot of money.

"I picture this as you're climbing up a ladder. And as you're climbing up, you're reaching down your hand to help somebody else climb up. And they're reaching down their other hand to help somebody else climb up and it keeps on going. And that's what I envision happening with the folk artists here."

Timpson Creek Gallery in Clayton, Ga., and Tyson Trading Co. in Micanopy, Fla., handle both Williams' and Hardee's work. Hardee also sells through Roger Cheecks' (no relation to Betty) store in Lakeland.