Posted in
Art
,
Book Review
,
Outsider Art
on November 9th, 2012
Groundwaters: A Century of Art by Self-Taught And Outsider Artists, Charles Russell, Prestel, 256 pages, 180 color illustrations, 2011. ISBN: 978-3-7913-4490-4. Hardcover $65.00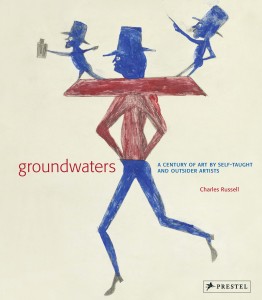 Charles Russell's Groundwaters has the look and feel of a conventional coffee table book, and it can indeed be appreciated simply for its many beautiful plates representing the work of important self-taught artists of the 20th Century.
Start reading the text, however, and another kind of book emerges. Those pictures aren't there just because they're striking. Each one is referenced in the text to make or elucidate a point, and Russell has many to make. Their density results in a book that feels longer than its 240 pages, but it also enables Russell, professor emeritus of English and American Studies at Rutgers University, to provide succinct but thoughtful and thorough summaries of major themes and historical moments in self-taught art. Read the rest of this entry »