Compound Ineptitude:

A Theory of Corporate Incompetence For God, Satan and the Powers That Be,

Incompetence is a Strategic Advantage
Incompetence is a precious business asset, as any hustler knows: Make the mark think you're clumsy, then come back for the kill. Landlords know it too: Tenants will eventually give up whining if you are too thick to grasp what they're complaining about. Staying stupid means never having to say no.

This strategy is by no means exclusive to smalltime capitalists. Even if it's not the kind of excellence typically touted in business books, institutionalized incompetence drives impressive results.

For real-world leadership, look to the health insurance industry. The case study should be familiar to anyone who has been assailed with the mysterious EOB, the incoherent billing or the impenetrable customer service, and just given up. The natural tendency when faced with these stonewalls is to attribute them to organizational flaws -- a lame employee or overactive attorney here, a dysfunctional software application there. But is it plausible that insurance companies don't know exactly how many people give up on claims, what those claims are worth, and what incremental investment income they stand to realize every day that claim fulfillment is delayed, if not prevented altogether? These are companies whose actuaries, after all, calculate risk and value to the penny for virtually every earthly activity.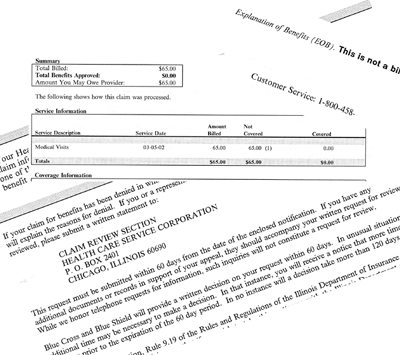 The economics amount to a calculation of what unresolved "mistakes" are worth vs. the cost of the additional CSR minutes devoted to not addressing them. It's not rocket science to put those economics into effect. Anyone familiar with enterprise software knows how easy it is to allow a broken billing system to just churn away. On the customer-service side, consciously managing an otherwise capable work force into poor performance is one way to deliver laggard service. But low pay, stressful working environments and employee churn must be far more efficient. They can guarantee hours of call-center frustration while never straying from acceptable business practices. Plus, they mask the real goal from those tasked with delivering it.
Put another way, even if lousy customer service were not the plan, insurers have no compelling reason to fix a profitable problem. Tolerating systems that make life miserable for the bill-paying public lets them prosper. The incentive is structural.
There is a price for the ill will this creates, but it's not immediately economic, so why should the big insurers care? Between their power, the medical establishment's and the entrenched ideological resistance to national health, they haven't had to worry much about the political frustrations of the sick. The health-care choice that matters to insurers - picking a carrier - is made by employers, not patients. Not many companies can afford to let efficiency in handling claims drive that choice. As large institutions like the Detroit automakers wake up to the burden of this remarkably unproductive system, things might change. But there are plenty of profits to be squeezed in the meantime.
Corporate FUD
Health insurance might be the most economically significant instance of industrial-strength incompetence, but it is by no means unique. Consider a large corporation that is strategically dependent on partnerships but is as feared as it is admired. Its management is known for such brilliance that everything it does is thought to play into an ulterior strategy of total domination.
Faced with this perception, the company has some creative options for ordinary business negotiations. How about accidentally leaving internal comments in a proposed contract draft? Systematically overwriting attachments with outdated versions? Fielding uncertainty and confusion on every negotiating call? Wasting breath addressing issues that no one with any sense - certainly no one with any brilliance -- would be concerned with? It's just these missteps that can constitute the company's brilliance.
Confronted with an overwhelming succession of careless errors and unable to get even a basic channel of communication established, the potential partner is likely to be as amazed by its apparent superiority as it is confused about what is really at stake. Even if the parent is bent on hegemony, the particular corner you're dealing with looks to be muddling through as best it can, so cut it some slack.
Incompetence is the ultimate excuse for not articulating actual goals. Someone incapable of explaining plans probably didn't formulate many in the first place. In this fog of misdirection, the partner is liable to back off its own requirements, give up on points that are hopelessly misunderstood and just plain miss the strategic issues that really matter.