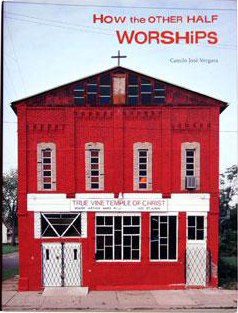 How the Other Half Worships, by Camilo Jose Vergara, Rutgers University Press, 286 pages, 2005. ISBN 978-0-8135-3682-8
How The Other Half Worships celebrates one of the great engines of true vernacular expression – religion. The subject is inner-city churches, with an emphasis on the storefront variety.
Camilo Jose Vergara has spent years visiting and photographing urban churches and their people, fascinated by their architecture and decoration, by what people do in them and by what they do for people.
The book is built around his photographs, but it also gives the church folk a direct voice. The generous quotations from pastors and parishioners provide a good flavor for their religious language, although the book cries out for one of those supplemental audio CDs. The sounds of their services are a missing dimension.
Continue reading →