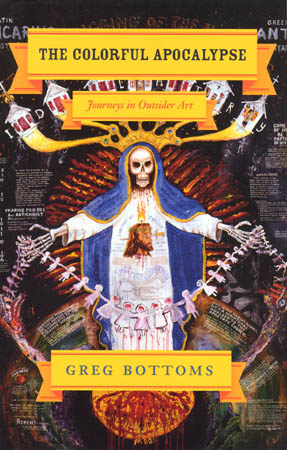 The Colorful Apocalypse: Journeys in Outsider Art, by Greg Bottoms, University of Chicago Press, 200 pages, 2007. ISBN 978-0-226-06685-1
As an outsider to outsider art, Greg Bottoms is in a great position to ask uncomfortable questions that might otherwise run afoul of the field's shibboleths and loyalties. Unfortunately, the questions he asks in this book are often as uninformed as they are discomfiting,
Bottoms clearly wants to engage with artists as people, not performers or freaks. Yet he ends up reducing them to some of the very clichés that he seems to want to debunk. Early on, for example, he associates Howard Finster with the myth of outsider-art craziness. He writes of outsider art (and in the context, Finster): "It is more often fuelled by passion, troubled psychology, extreme ideology, faith, despair and the desperate need to be heard and seen that comes with cultural marginalization and mental unease."
That's a mild variation of the more explicit claim of lunacy that Bottoms makes elsewhere in his text. That Finster was eccentric is undoubted. No one creates an environment as grandiose as Paradise Garden without being well outside the norm for avocation. Anyone who had even passing encounters with the man knew he worked and spoke compulsively, obsessed with getting his message out. But does that make him schizophrenic, or anything like it? Bottoms seems to assume that the visionary quality of someone's art makes a prime facie case for the diagnosis, with evidence of personal idiosyncrasy the closing argument.
Bottoms dishes out equally hostile treatment to those who attempted to connect with Finster and his art. "Filmmaker and journalists, art students and hippies and intellectuals, buyers and browsers and gawkers, used to come around and ogle the old man, America's most famous outsider artist, like a sideshow attraction or a comic performer," he writes.
To imply that Finster was exploited is strange indeed. The assumption that country bumpkins are inevitably victims when they encounter city slickers should have been put to rest with the Beverly Hillbillies. One can argue quite plausibly that Finster knew what he was about, and played his audience brilliantly.
The effort to connect across any kind of cultural divide seems offensive to Bottoms, whether it happens on the artists' home turf or in the museums and galleries where those dreadful hippies, art students and gawkers congregate when in town. At one point he refers to American Visionary Art Museum in Baltimore as like "a warehouse of good old marginalization."
"You, an art consumer, are invited to witness the raw expression of the marginalized and the disenfranchised, have a nice pricey meal, then go wait in the beltway traffic like everybody else in the D.C. area," Bottoms writes.
So what exactly are you supposed to do after going to a museum? There seems to be a fundamental misanthropy here that finds ordinary human activities worthy of loathing while erecting a false dichotomy between art makers and viewers. One presumes that Finster, William Thomas Thompson and Norbert Kox sometimes have meals, sit in traffic or even go to a museum, too. They're hardly fixed on the other side of that dichotomy unless you assume that they're basically just nuts and that as nuts they should be shut off from the wider culture.
AVAM and the modern-day Mr. Drysdales and Miss Hathaways that Bottoms found there are at least halfway willing to take Finster and the other religious visionaries on their own artistic terms. Yes, art collectors tend to take the expression more to heart than the message being expressed. But why is valuing religious intensity as a driver of artistic vision any more hypocritical than using it for evidence of insanity? The fact that the art world's acceptance is qualified doesn't mean the artists aren't accomplishing exactly what they set out to do. For many evangelicals, the mandate specifically is to preach the gospel message. If the recipients ignore it, it's certainly their problem, not the preacher's.
But Bottoms isn't really any more interested in that message than the audience he berates. His real theme seems to be himself. At every opportunity he turns his account back to his family and his personal circumstances. Early on, for example, we learn that Bottoms' grandmother was institutionalized twice for depression and alcoholism, "but, remarkably, seemed happy and at peace late in her life." What that has to do with Myrtice West, the subject at the time, or the book's readers remains a mystery. But we know it's top of mind for Bottoms, not only because he wrote an earlier book on his brother's schizophrenia, but also because of the repeated references in this work to his family history.
When Bottoms takes himself out of the picture and allows the artists and the people who know them to speak for themselves, there are some flashes of light. He includes a poignant quote from William Thomas Thompson's wife about the toll taken by his devotion to his art and his message. Similarly, some of the quotes from Norbert Kox are as compelling as his art (even if Kox and Thompson have disputed Bottoms' accounts of their encounters).
Given the persistent narcissism of this book, it's hard not to suspect that the real source of Bottoms' discomfort has to do with some internal saga of his own rather than anything to do with the art. For whatever reason, he apparently would prefer that the outside world leave these artists alone to fester in what he seems to view as their mental or cultural cul-de-sacs. It's a nasty thought, but then in the end this book is a nasty piece of work toward all concerned.