Follies of Europe: Architectural Extravaganzas, by Nic Barlow, Caroline Holmes and Tim Knox. Garden Art Press, 256 pages, 286 color illustrations, 2008. ISBN 1-87067-356-5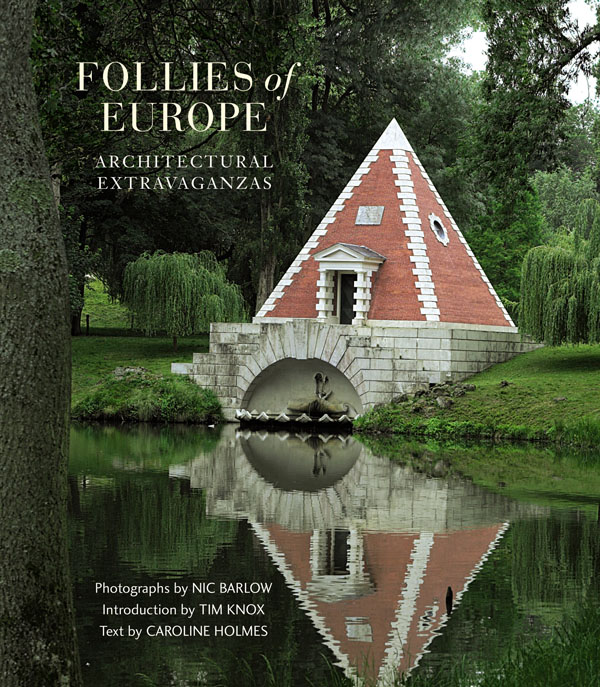 In the United States, writing on the environments of self-taught artists tends to place them within the outsider art context or, sometimes, within a specifically American tradition of individual expression.
Follies of Europe demonstrates a very different way of looking at these sites. Not only is their individualistic exuberance not distinctly American, but they belong to a tradition of highly personal outdoor extravaganzas going back at least to the 17th Century. Indeed, the book opens with reference to Roman gardens decorated with miniature temples and palaces, which are folly structures par excellence.

The book is built around Nic Barlow's fine photography, but it also presents fact-filled histories of each site that situates them within the relevant artistic/architectural setting. It moves from neoclassical and baroque folly gardens of great order and grandeur that spread through Europe in the 1600s and 1700s to wilder and wilder fantasies, some of well-known art brut status (France's Le Palais Ideal, for example) and others of more contemporary vintage and artistic professional creation, but no less weird for it.
Of course, as any neighbor can tell you, not everyone loves these things. Holmes, who contributed the text, shares a wonderful quote from Goethe on the 600-statue Villa Palagonia in Italy: This "Villa of Monsters" was in "bad taste and [the] folly of an eccentric mind," the poet said.
But the Villa Palagonia is, needless to say, one of the more compelling sites documented here, with its profusion of grotesque statues. Others of special interest include Ireland's Larchill, with its shell-decorated tower and generally primitive construction; the sham ruins of Belvedere House, also in Ireland; and the fairy tale undulating roofs of the Sheep's Barn in England, one of the most stunning of the recent constructions.
The book covers just a handful of brut sites — La Maison Picassiette in Chartres, as well as the lesser-known John Fairnington cement menagerie in Britain. A number of the follies are very famous, including Antonio Gaudi's early-20th Century Parc Guell in Barcelona; the mid-20th Century Portmerion in Wales, which was used for the filming of the TV series The Prisoner in the late 1960s; and the 18th Century Stourhead in England.
All in all the collections of garden temples, isolated towers, excessively decorated fountains and oddly sculpted buildings demonstrate a long history of aggressively expressive eccentricity that isn't unique to the self-taught or to any single country or social class. This particular collection only covers a fraction of these places, but it is still a great introduction to that broader tradition of artistic environments.